'A smart city, this is how you do it'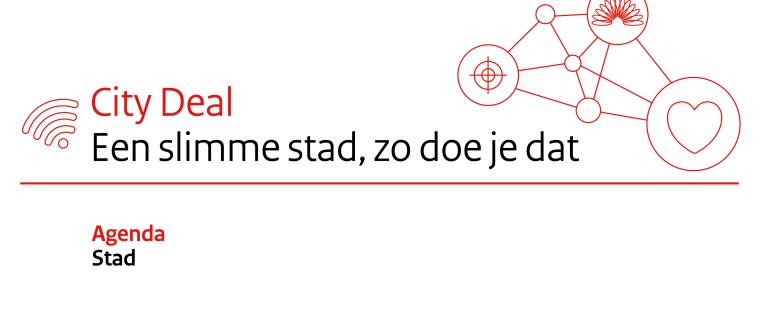 In the coming years, digitization and technology will radically change urban design and urban planning, administration, functioning and governance of regions, cities and villages throughout the world, including the Netherlands. All governments, companies, social organizations, designers, but certainly also residents will have to deal with this. We are already seeing the signs of this, in our own society but also in various economic sectors. These omens can be extended to spatial planning and area development. Read more about this in the book 'A smart city, this is how you do it'
Our mission: Tackle major challenges
The parties of the City Deal 'A smart city, this is how we do it', argue that digitization and technology should be used to tackle the major challenges that Europe and the Netherlands face. These challenges are for example the energy transition and other consequences of climate change; the consequences of growing urbanization and in particular the pressure on mobility in cities; setting up a circular economy; keeping our society inclusive and keeping cities and the countryside liveable. The current COVID-19 pandemic is a challenge in itself and reinforces the other tasks mentioned. This can be summarized in the sustainable development goal 11 of the United Nations: make cities inclusive, safe, resilient and sustainable.
In a democratic way
Digitization and technology should contribute to a society in which everyone can live in freedom, and it should lead to the strengthening of democracy. That society must be safe with reliable social interaction. This is not always self-evident or simple: developments due to digitization and technology can also deceive this freedom and democracy. Therefore, the ethical dilemmas identified by the Rathenau Institute in the report "Urgent Upgrade" must be considered. These are: privacy, autonomy, security, control over technology, human dignity, justice, balance of power.
What will change
Through digitization and technology, all objects and users thereof in the physical domain are connected to each other to form an intelligent network. That means that all parts of that physical space, and all the people who are in this space, can communicate with each other. This makes the distance between regions, cities and villages much less relevant and society much more flexible. It is expected that this will lead to a greater need for meaningful and distinct places that are perceived as pleasant by groups of people, because when society becomes very flexible, people will in principle prefer to be in the place they find most pleasant at that specific moment.
Focus on processes
In the City Deal we note that to be able to answer these and other questions properly, existing processes and instruments for the design, organization and administration of the city must be adapted. Governments, companies, social organizations and residents have to cooperate in a different way. New agreements must be made; new working methods must be devised. This will lead to major changes and requires managerial courage and a practical approach appropriate to local differences, linked to Europe and the rest of the world. In the context of opportunities, threats and the unexpected. If all of this is done, then optimal use will be made of the opportunities offered by digitization and technology.
What do we want to achieve?
If we want our cities to remain liveable, we must make use of the latest technologies. However, we want that to be done in a democratic way. We must organize it in such a way that we take advantage of the opportunities that new technology offers, but do not have to deal with negative effects of this new technology. However, what tools do we need to ensure that this runs as smoothly as possible? Tools which can increase the quality of life in our cities and safeguard our democratic values. In the City Deal "A smart city, that's how you do it" we develop, test and implement those tools.
What is our aim?
In this City Deal, we aim to change the processes that design, arrange, manage and govern regions, cities and villages; so that the opportunities offered by digitization and technology can be optimally exploited. The participants in the City Deal will make every effort during the term of the City Deal to change at least twelve processes, to safeguard these processes, to implement them, and to achieve upscaling. This is done from existing practice, so that the developed solutions are demand-driven and not supply-driven.
What are the process questions?
Questions that exist are, for example (not exhaustive):
How can smart city applications in public spaces be regulated by (local) laws and regulations?
How can municipalities deal sensibly with the acquisition and storage of data from public space?
How are residents involved in citizen measurement initiatives?
How can the outcomes of different citizen measurement initiatives be compared?
Which design belongs to a 'smart city'? How can (real-time) datasets be used in the design process?
What is the business model for the smart city?
What is a good tender for an urban data platform?
How do sensors in public spaces comply with the GDPR?
How can flexible and measurable goals lead to living environmental plans?
How does a digital platform (for goods and people movements) become an optimal part of spatial plans?
How does shared mobility become commonplace in the city? How can emergency vehicles optimally communicate online with fellow road users, traffic control systems and other parts of the public space?
Principles and preconditions behind the City Deal
In the City Deal "A smart city, that's how you do it' the following principles are at stake, to assure that the processes and tools are democratic and contribute to a sustainable city.
Democratic – The ethical dilemmas identified by the Rathenau Institute in the "Urgent Upgrade" report are considered: privacy, autonomy, security, control over technology, human dignity, justice, balance of power.
Sustainable – As referred to in the United Nations Sustainable Development Goal 11: "make cities inclusive, safe, resilient and sustainable."
Other preconditions are that the processes and tools are feasible, scalable and divisible.
Feasible – A certain result is achieved within an agreed time, with an agreed budget. This result is applicable in common practice.
Scalable – Suitable for common practice and standardized as much as possible. Where possible, existing uniform principles such as standards, agreements and norms are used.
Divisible – The result can be widely used. Vendor lock ins are prevented.
How do we do it?
The twelve tools are developed in twelve working groups.
For each process, a working group is formed, in which the process question is solved step by step and tools are developed. Participants decide together which working groups will be set up. Parties participate in the working groups. Each working group has at least three Parties which will test the developed tool in practice. This creates solutions that are widely applicable and can be deployed on a demand-driven basis. The working groups meet during monthly meetings, and they are in contact with each other and to exchange knowledge in addition to the monthly meetings.
Project organization – The City Deal is managed and organized by a project organization, which at least consists of a project manager and secretary. The project manager has been appointed by Urban Agenda (Agenda Stad, part of the Ministry of the Interior and Kingdom Relations) and the initiating Parties in the preliminary phase of the City Deal. The project organization is responsible for the success of the City Deal.
Directors and aldermen network – Once a year a meeting is organized for all directors and aldermen who have signed the City Deal (or their successors). In this meeting the progress will be presented and the next steps within and after the term of the City Deal will be proposed. This meeting takes place annually in the first week of December.
Steering Committee – This consists of aldermen and / or directors of the parties of the City Deal. The project manager reports twice a year on the progress of the City Deal to the steering group. Based on this evaluation, the structure of the City Deal will be updated. The steering group includes at least one director of the G40 City Network and the Ministry of the Interior and Kingdom Relations.
Core group – This group includes at least the project manager and representatives of the Ministry of the Interior and Kingdom Relations and the G40 City Network. The core group is an agile, smaller group that prepares decisions and discusses executive activities.
Quality teams – Quality teams are put together from the City Deal network to provide solicited and unsolicited advice to the working groups. It concerns the following quality teams: a general quality team, a design quality team, a technical quality team and a quality team for public and democratic values.
Communication: Results and progress of current processes are shared with the rest of the professional world during meetings organized at least twice a year by the project organization and in a publication that appears annually, both physically and online. It also publishes in relevant professional media and, where possible, in national public media. A progress report is published online every year.
Do you want to contact us?
Click here to get in touch with us.
Who are participating?
The following 58 parties are participating in the City Deal. Read more about the network.
naar de City Deal